Let the socialising begin!
Spring is here, there is a feeling of hopefulness and excitement in the air. With the warmer days and longer evenings, we can finally look forward to meeting up with family and friends. Whilst there is of course some trepidation, it is becoming clear that outdoors is the new indoors. Last year it was about the home office and making the kitchen the hub of the home to come together, this year it is the garden that will be the place to socialise.
The great opportunity that comes with building in an outdoor space is that you have no boundaries; you have no structure and can use your imagination. An area next to the garage that may have stayed empty for years or had pots up against could be transformed into an outdoor kitchen. The shed at the back of the garden could be transformed into a bar, or an al fresco eating space, its open to all and any ideas.
Stone choices for outdoor living
There are great choices even choosing worktops for outdoor spaces; Granite, Dekton by Cosentino and Caesarstone's Outdoor Collection.
Granite is bespoke and quarried all around the world so makes for a unique talking point. With granite you literally will not get two slabs the same which if you were to consider having an outside bar make for an interesting focal point.
Granite can withstand heat from the sun and hot pans however you may want to pick somewhere with some shade as it can absorb the sun and get very hot to touch. Certain grades of granite could fade with too much sun exposure, but with proper sealant granite is resistant to stains and mould. With granite you are choosing a stone for its unique look and how it can enhance a space visually.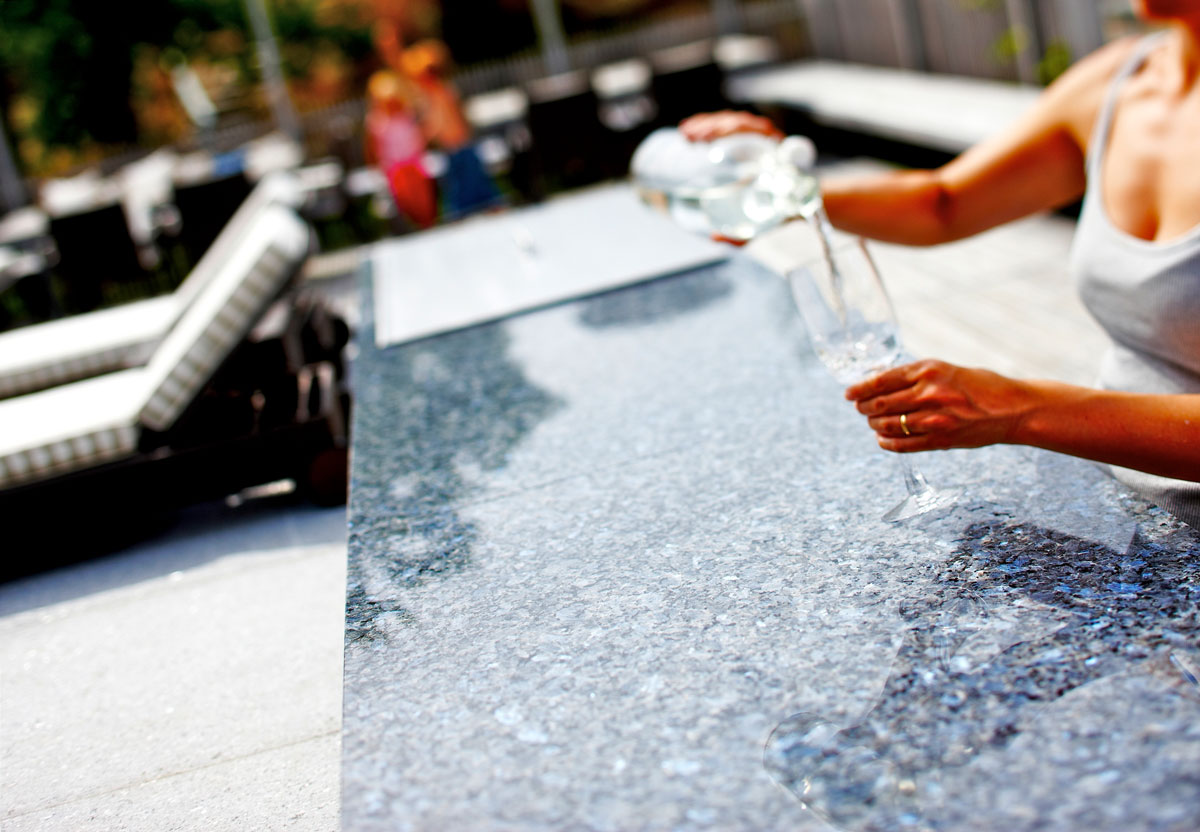 Dekton by Cosentino
Dekton is a mix of raw materials used to produce the latest in glass and porcelain, combined with the highest quality in quartz surfaces.
It is highly resistant to UV light, so you don't need to worry about the colour fading over time, this makes it perfect for that sunny spot in the garden as an outdoor kitchen space. Dekton will not scorch, crack, or burn in high temperatures, it is resistant to both heat and cold and because of its stain resistances it is easy to clean. Let us just say you could have an outdoor table made from Dekton and put a fire pit in the middle, how's that for a feature! There is also a great range of colours so you can really enjoy coming up with design ideas.
Caesarstone
Caesarstone have come out with a new outdoor collection currently featuring three shades palm shade, which has a look of white marble with subtle warm veining, midday, a white concrete look and clearskies, a pale grey concrete design they are all subtle and elegant and would suit either a country garden or a contemporary space.
A variety of ideas come to mind with being outdoors, do you want somewhere you can entertain? or a peaceful haven to relax in and enjoy after a long day? With Barbecues, pizza ovens, bars and even pools that can be enhanced with stone, having options means your garden can become the perfect extension to your home in the great outdoors.
Enjoy designing your outdoor space.