How to prepare for your new stone worktops
You have had your kitchen designed, chosen your cabinets, sink, taps even the colour of your walls and now comes the exciting part, the worktops! As you are reading this blog and we only sell stone worktops I am going to assume you are going with either Quartz, Granite, Marble or Dekton.
Simple design features to suit your living style
When you are looking through magazines or online at kitchens and bathrooms you may miss simple details that are quite important to the design of your worktops, like edges, shapes, thickness it's not just about the colour. And now this has been mentioned you will scan photographs and once we are allowed back out you will feel the edges of worktops in restaurants and hotels, even the tradespeople do it to compare skills.
Question – When you rinse your wine glasses or teacups for example which side do you automatically place them on to dry? That is where you might want to consider your drainer grooves. A simply thought process but quite crucial to your day to day living needs.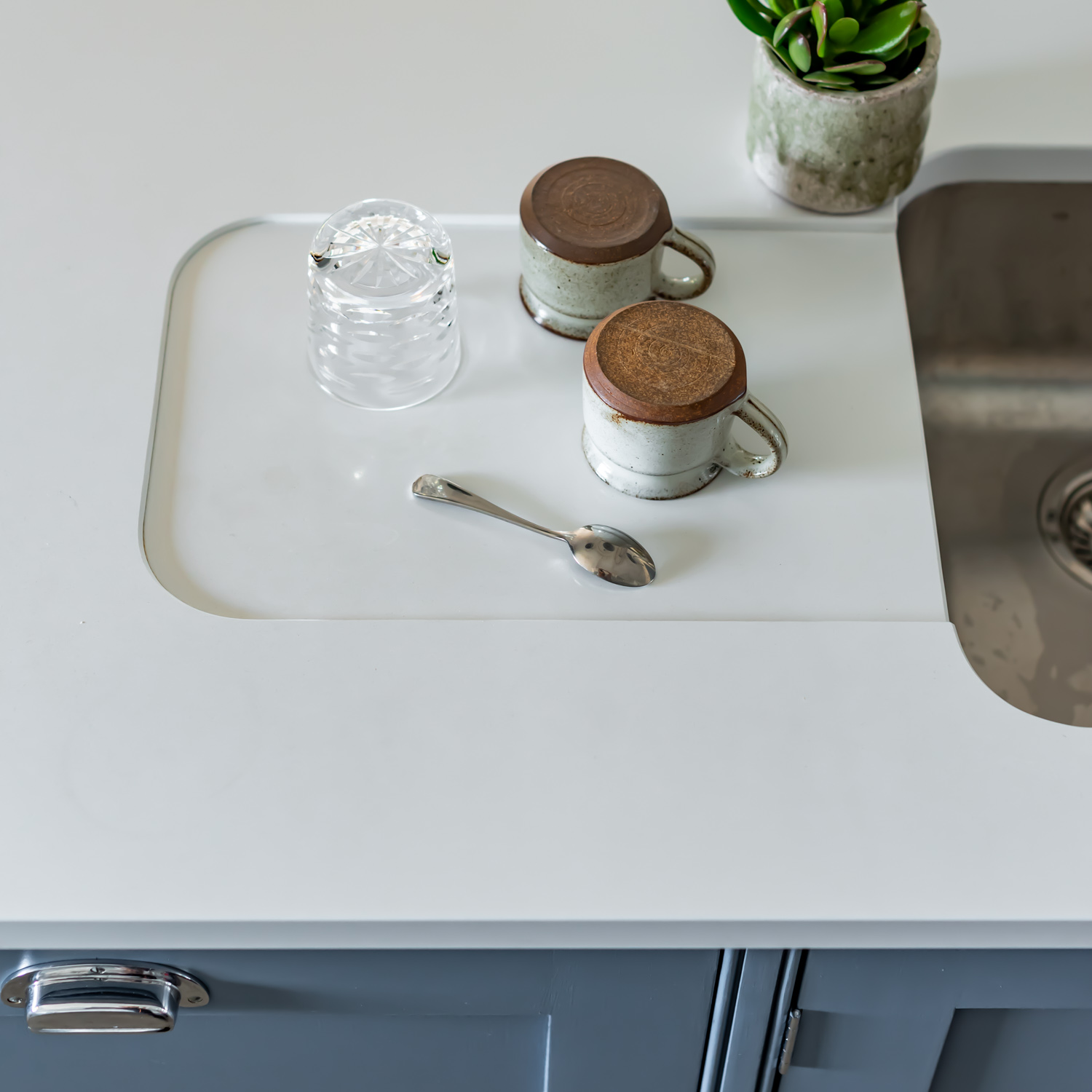 Also, to be considered is what size overhang would you like over your cabinets? And what edge profile would you like? A double pencil may suit a contemporary design, but an ogee may better suit a country style kitchen.
These are questions to ask and confirm before the template.
You want to book your template, but what needs to be in place first?
A template is when a member of staff comes out to your home or desired workspace and measures the exact size, shape and fit that your final piece of stone will take.
If it is off by even a few millimetres it can change the aesthetics and durability of the worktop. Stone unsurprisingly cannot bend or adapt its shape to suit a wall or cupboard, so it is important to get the template exactly right.
If your cupboards and sink is not in the right place for the template it simply cannot be done and would have to wait until it is ready. To "prop" a piece of furniture in place without being properly fitted before the template could cause the stone to fit incorrectly or fracture due to inadequate weight bearing.
Stone worktops are beautiful, so it is worth the time to get the kitchen furniture right first.
The members of staff that come out to template and fit your worktops are craftsmen and have had years learning the trade and material and while they can be expected to workout reasonable challenges as to how a worktop may fit (and good one's relish in the challenge) you cannot expect them to measure over the top of the plumber or guess where a sink may sit. It does involve a bit of maths and calculations and if your anything like me in either of those, I will leave the professionals to get it right.
Check and double check
After the template you will be sent a copy of the digital layout of your proposed worktop, this is the time for you to check and double check you are happy with all the details. Once production starts the stone cannot be stuck back together or changed and it could cost a whole slab of stone to re start, if you are not sure about something this is the best time to ask the professionals.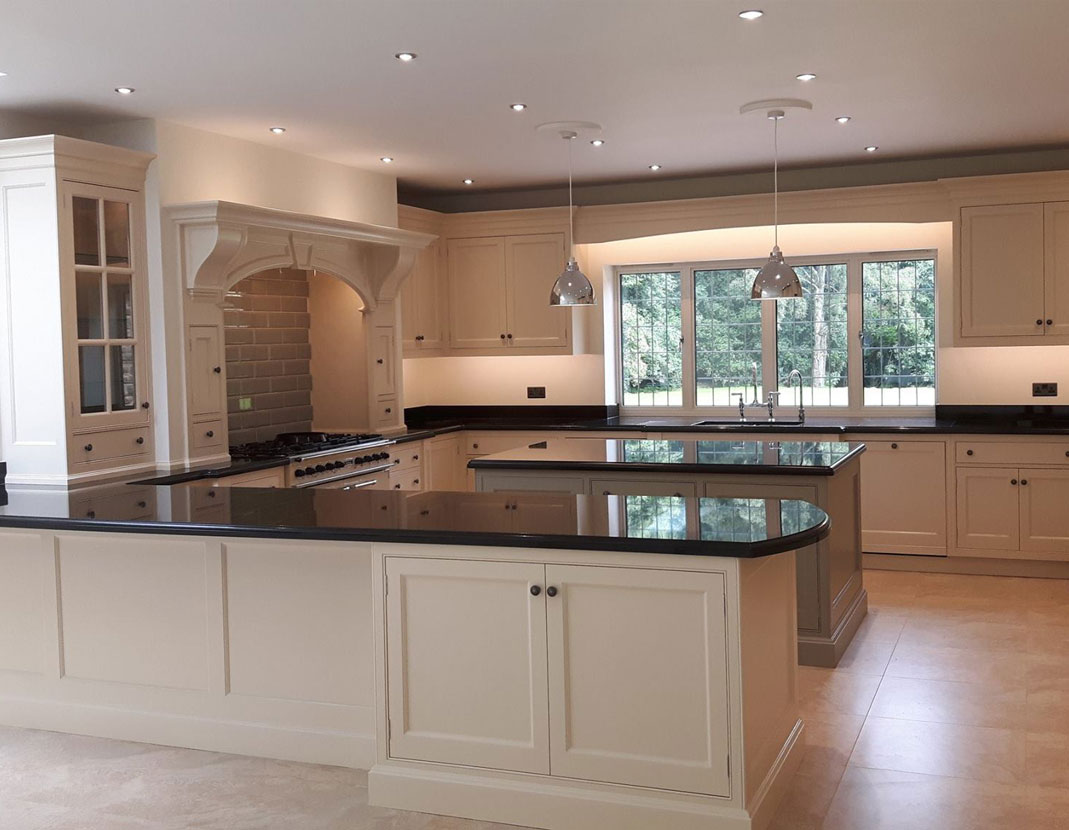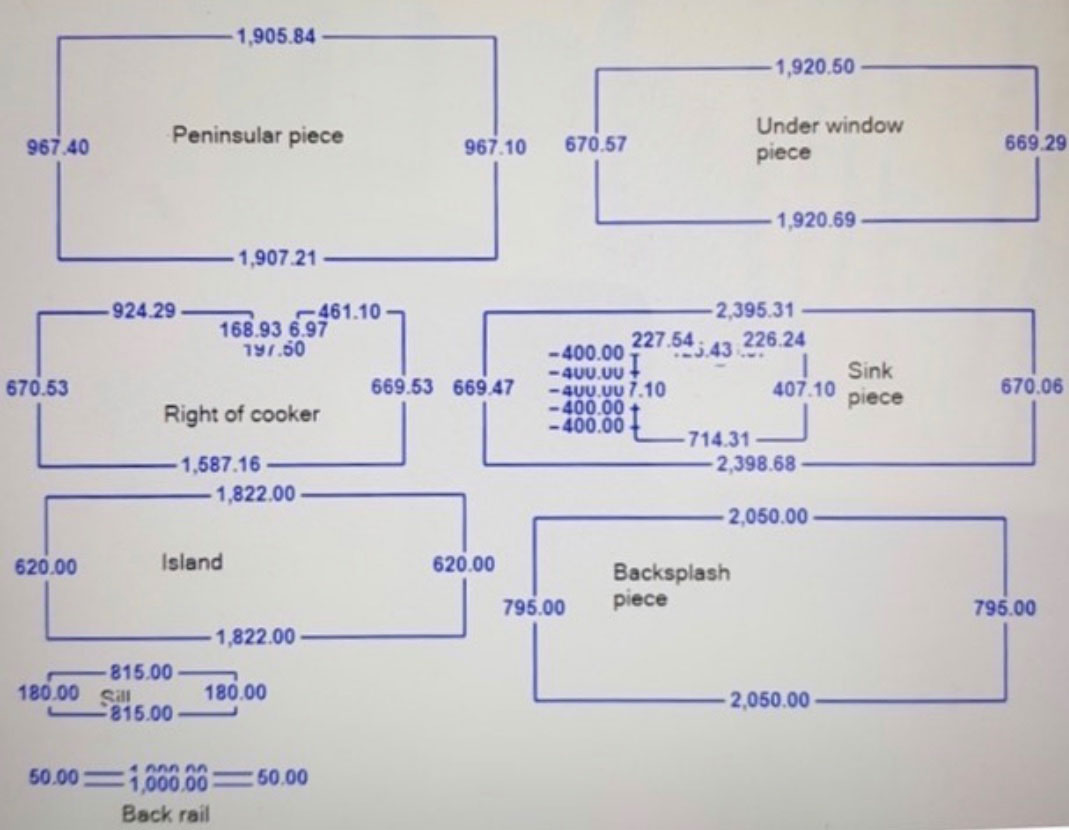 Have a cup of tea and let us do the hard work
You have chosen the stone had the template done and approved the digitals, now you can relax while the team get busy. Once the digitals have been approved your chosen slab of stone is then taken from the yard and into production. In short, the stone is taken onto a CNC saw cut and shaped before further fabrication and polishing by our skilled team. It is then stored correctly before making its journey to its final fit.
Very simply put…
Showroom
Templators
Digitised templates
Stone to CNC machinery
Fabrication
Polishing
Fit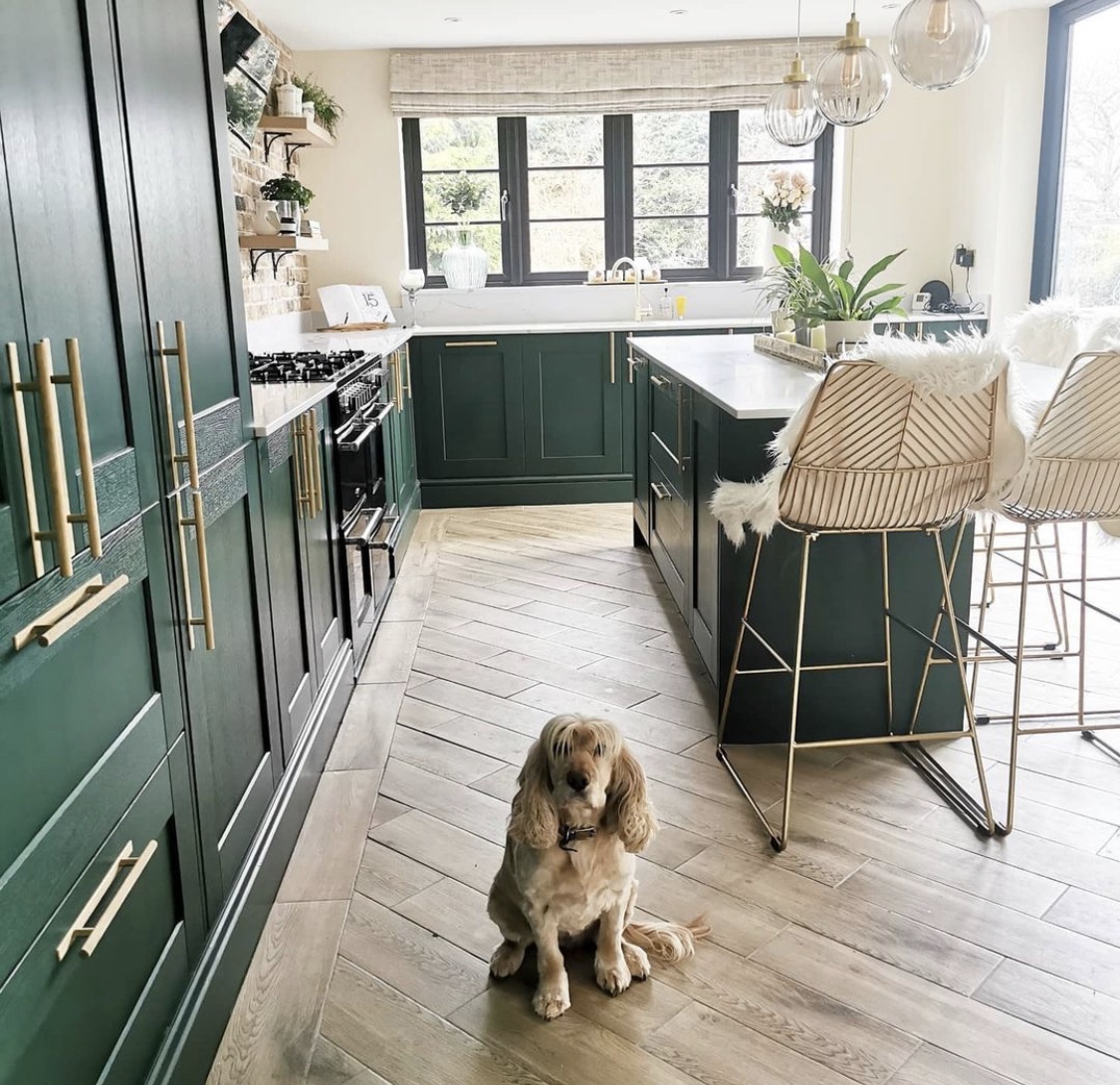 The day of new worktops
Obviously, you are looking forward to your chosen worktops, and why not, it's a design process and this is one of the final pieces. Include the fact that you have deliberated over these worktops and they are special to you; you will want the fit to go well.
The best advice is to have the route which the fitters must carry your worktops and the room it is to be fitted as clear of clutter and people as possible, it's stone so it's heavy! After the fit make sure you let the adhesives dry and absolutely no sitting on the worktops to admire your decision. Whilst stone worktops are very strong and fabricators take pride in their durability nothing is unbreakable, instead take a photo for instagram, sit back and admire a decision well made.