A first time for everything – a guide to all things Stone
Hi welcome to our first blog, these will be a combination of knowledge from Paul (the owner of First Stone who has over 17 years of experience in the stone industry) and me Gemma (wife of Paul, social media geek/interior design enthusiast and mum of two).
We work together for our family run business and between us, hope you will enjoy some insights into the stone industry and interior world from our perspective.
I have increasingly become more appreciative of interior design. And now we are looking to move to a new house and either renovate or self-build, I have become slightly obsessed with blogs and social media for inspiration. I also realised that I may be able to help others understand a bit more about stone fabrication and worktop choices, as I had to learn from an already experienced team having had no previous experience; I'm the outsider looking in.
I think I am going to begin with a question I was asked just yesterday at an appointment, "what do you recommend granite or quartz"?
It seems like a simple question, granite or quartz?
I asked the exact same question so I fully appreciate why people who are not in the trade want to know the answer to this, and, as it is one of the most common questions we get asked, it seems like a natural place to begin.
Firstly, granite is a real quarried rock, it comes from all across the world and is cut from a quarry rock face in a large block and then sent to be cut into slabs (look at your sliced bread, the block is the loaf, the slab is the slice).
Quartz is a type of gemstone, made up of silica and oxygen. Quartz slabs contain crushed quartz mixed with resin and colouring pigments (the ratio being about 93% quartz.)
Granite is natural stone and has patterns and colours that are more unique than quartz.
Quartz is manufactured in a variety of different colours and patterns, which can be uniform or can have man-made inclusions like mirror chips or glitter.
Your kitchen is your personality
Okay let me break it down further, the kitchen is no longer a place you are trapped in away from people while you cook. Most of us like to entertain and enjoy having our family around us while we cook meals, making the kitchen a focal point of our home. You also need it to be functional. From all the kitchens we have visited, we have got the sense of style that the home has and an insight into the personality of the people living there.
It's gone from being a place you visit just to cook to the centre point of your home so it makes sense to spend time thinking about what you want it to look like.
Generally, quartz is stronger than granite and more flexible to fabricate, which makes it better for longer worktops lengths, especially for cut outs for sinks and hobs. It is very durable and highly stain-resistant (good for the wine drinkers).
Quartz comes in many colours and lots of different variations so you can get modern looking, plain colours. You can get copies of marble colours that have all the positive quartz attributes and none of the issues attributed to marble (marble is a whole other blog!)
There are loads of manufacturers of quartz slabs, but look for the magic number of 93% quartz; some manufacturers drop the percentage to 90% or below but even this small difference can influence the porosity level of the slab.
And the cons
Quartz cannot withstand very hot temperatures and can crack through thermal shock; it also cannot be used in exteriors as it will discolour over time when exposed to direct sunlight.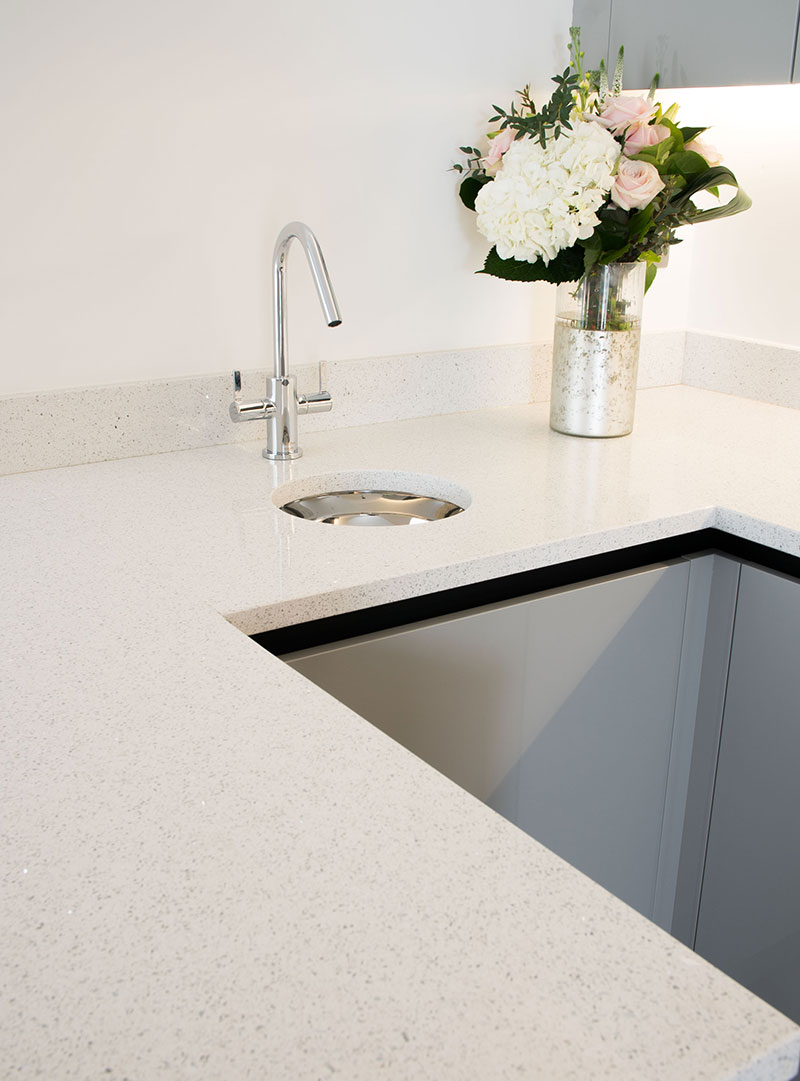 So, with granite no two pieces are the same, you buy something unique to everyone else and on average the slab sizes are bigger than quartz (which can potentially mean larger island tops). Granite can be used outside – although so can Dekton which, we can tell you about another day. Granite can take heat better than quartz, although it's not immune.
And the cons
The appearance of granite is not uniform, its just what it is out of the rock and some can have naturally occurring fissures (cracks) in the rock.
You also should not buy granite based on a small sample as it will differ from the actual stone you buy. Remember – it is unique. The jointing (if you have a larger kitchen several pieces may be used and 'joined' together) cannot always be aligned so that the pattern runs through.
You want your worktops to last… after all you're paying for the style and exclusivity of stone
Both materials have longevity, and both have pros and cons. Quartz is nonporous, but granite needs sealing. Quartz carries warranties but, as yet, granite does not. Both materials are easy to clean, highly scratch and chip resistant (to a point I mean don't take a hammer to them) if cared for properly they can last a lifetime.
There isn't a 'better surface' both work equally – it's about what is more important to you and you design.
There are budgets to consider
As a family, we understand how cost makes a difference in decision-making, so let me try to explain the different pricing schemes.
Pricing comes in brackets, 1 being the least expensive and up to 6 being the most expensive. You also have to take into consideration that quartz and granite slabs come in different sizes (so a small kitchen you may be able to make out of one slab but a larger kitchen you will need two or more). In general granite will cost you less than quartz but choose a price bracket 1 quartz and that will be more cost effective than a high-end granite. I would suspect colour will be a main driving focus so it's worth viewing slabs and/or obtaining samples that you can use as a colour palette to match your chosen cabinetry.
Granite and quartz worktop owners will defend their own choice because it's personal to them, we have had star galaxy granite with oak cabinets in a country kitchen for fourteen years but have decided when we move, we want quartz and a modern design.
There is no right or wrong answer… you must consider the functionality of your kitchen and the 'feel' of your home. Like I mentioned before, I am a bit of a follower of the influencers and I am not interior trained so go on what I like on Pinterest or social media. Paul however has trade experience and a natural eye for design, which is why our next project will be so interesting to design together…
The point is you must love it and both materials look great when installed.
All Worktops by First Stone Worktops & Images by @Greighq.
Stone in these images was supplied by: Beltrami, Cosentino, Gerald Culliford Ltd, Levantina and Caesarstone.